Promote Uptimia

Get rewarded
Earn a 30% lifetime commission by promoting one of the market's top website monitoring tools.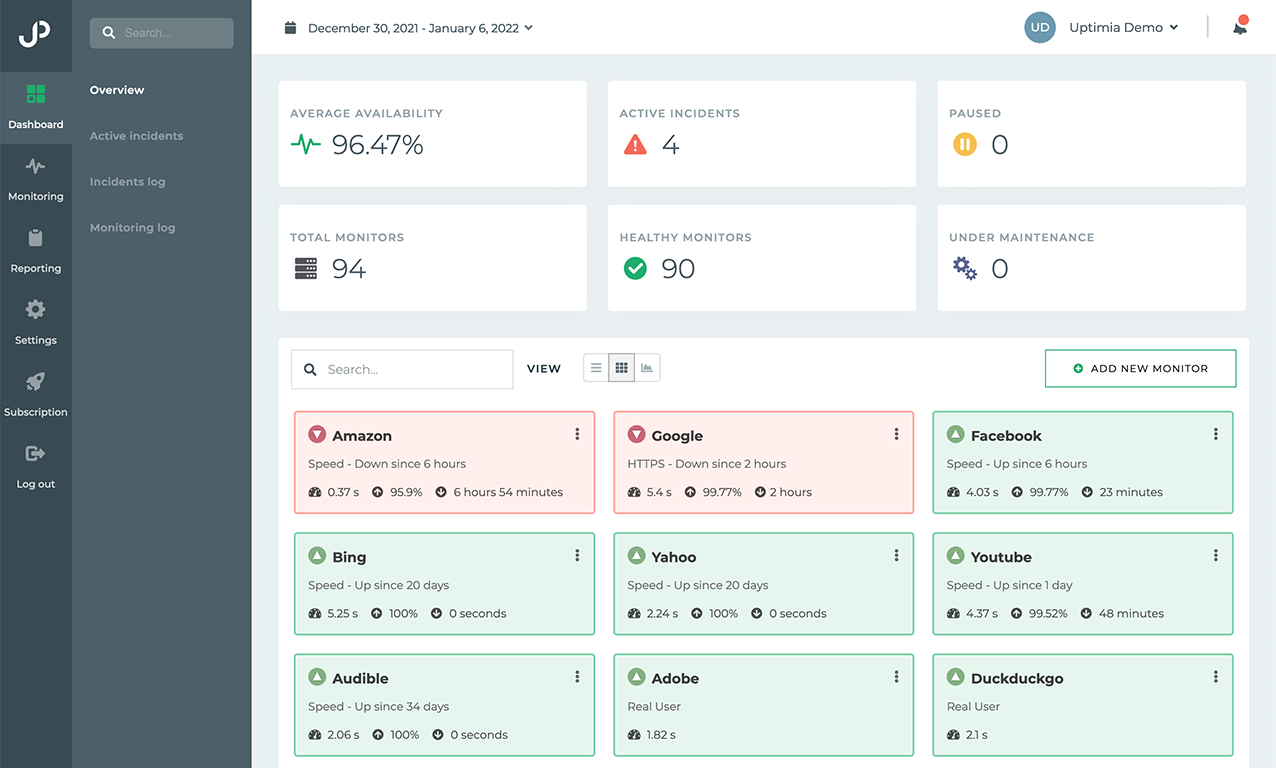 30% lifetime commission
•
180 days cookie
•
High conversion rates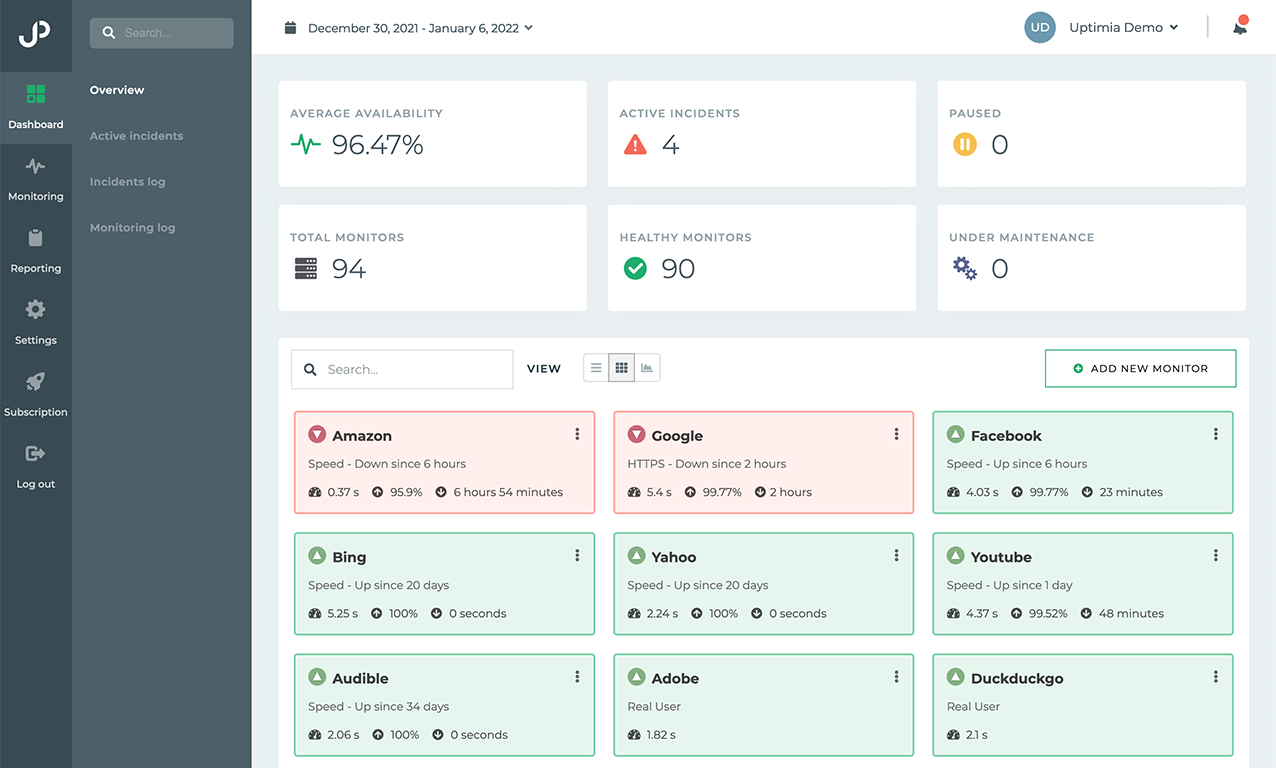 Monitoring
100,000+ websites
Why you should promote Uptimia
Lifetime commission
We will pay you a commission throughout the entire time that a customer you referred uses our services.
Amazing conversion rates
About 25% of qualified trial users become paying customers.
Long cookie duration
With our referral program, our cookies remain active for an impressive 180 days.
How does our referral program work?
A very brief explanation
Sign up
Simply follow the link on this page to access your personal affiliate cabinet, complete with all the resources you need to thrive.
Share
Spread the word about Uptimia and get rewarded! Earn commission for every purchase made through your affiliate link.
Earn
Earn lifetime rewards! Refer others to our services and receive a continuous commission as long as they continue using our tools.
Get 30% commission on all payments as an affiliate.
Use this calculator to uncover your potential commission. It calculates how much you can earn by referring paying customers to us. Our average customer lifetime is around 5 years.
Calculating your potential commission
Price

$34 / month

Commission

$225 / month
What Uptimia offers?
Introducing our all-in-one website monitoring tool that keeps your website under watch 24/7. Get alerted before your customers find that your website is broken.
Program description & details
Connect your tools, connect your teams. With over 100 apps already available in our directory, your team's favourite tools are just a click away.
Cookie lifetime
180 days
Payout
Monthly
Restrictions
No PPC on brand keywords
Commission terms
30% commission on revenue generated through new users
Refund policy
No refunds
Program agreement
View details
Frequently asked questions
How does Uptimia's affiliate program work?
By participating in Uptimia's affiliate program, individuals have the opportunity to earn commissions by promoting Uptimia's services using their exclusive affiliate link. Upon joining the program and accessing their personal affiliate cabinet, affiliates gain access to valuable resources to effectively promote Uptimia to their audience.

Here's how it works: when someone clicks on an affiliate's unique link and completes a purchase on Uptimia's website, the affiliate earns a commission for that specific transaction. This commission is a one-time reward for the referred purchase.

But the benefits don't stop there. Affiliates also have the chance to earn lifetime commissions. When they refer others to Uptimia's services, and those individuals make purchases through the affiliate link, the original affiliate will continuously receive commissions for as long as the referred users keep using Uptimia's services.

In essence, Uptimia's affiliate program incentivizes individuals to promote the company's services actively and encourages ongoing referrals by offering enticing lifetime commissions. Start earning with Uptimia today by joining their rewarding affiliate program!
Where can I find the affiliate dashboard?
Upon signing up for Uptimia's Affiliate Program, you'll receive an email invitation to join the affiliate tracking platform, FirstPromoter. This grants you access to the resources essential for your success in the program.
What is the commission rate?
We offer an amazing 30% lifetime commission rate, meaning you'll continue to receive payments as long as the customer you referred is paying us. With an average customer lifetime of around 5 years, you can anticipate receiving payments for approximately 5 years after referring a paying customer.
What is cookie expiration time?
Cookies remain active for 180 days, meaning that even if a customer you referred signs up 179 days after clicking your link, they will still be counted as your referral.
You will receive payment every month on or before the 10th day of the month for the commission you generated in the previous month. If the customer spent $1000, you will be paid $300, minus the service fees. Please note that there is a minimum payout of $100.
You can get paid to your PayPal account.
What is the minimum payout amount?
To be eligible for a payout, you need to generate a minimum amount of $100.
What are the restrictions?
To maintain fairness in our Affiliate Program, certain activities are restricted, including:

1. Coupon sites.
2. Self-referrals, which involves creating another account while referring yourself.
3. Using any Uptimia brand, logo, or tool names (even misspelled versions) in PPC advertising, domains, subdomains, or social media profiles.
4. Utilizing discount coupons not assigned to you.
5. Using misleading or incorrect information, such as non-existent discounts.

How can I track conversions?
In your personal dashboard, you can monitor clicks, conversions, payouts, and other essential data to help you strategize and accomplish your goals.
What is your conversion rate?
Around 25% of people who sign up for a free trial with their work e-mail (meaning, no Gmail or other free e-mail providers) become paying customers.